I see the world in colours
There is hardly anything more beautiful than finding companions who share the enthusiasm for a cause. Cycling is our passion, our attitude to life and also a form of perception. We were also able to inspire Anne-Sophie Kramer, designer at Maloja, for cycling. And she inspires us with her drawings and her ability to capture everything around her in colours and shapes.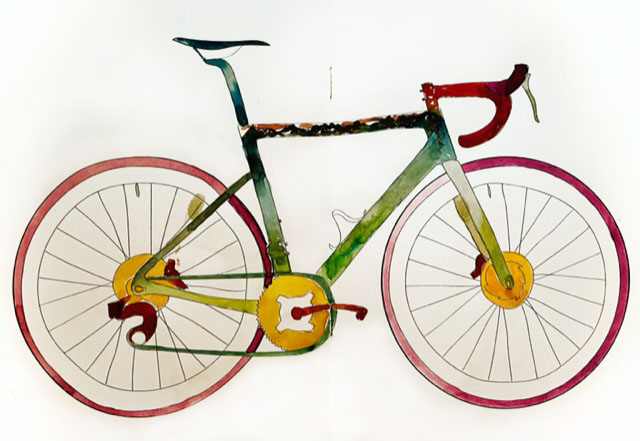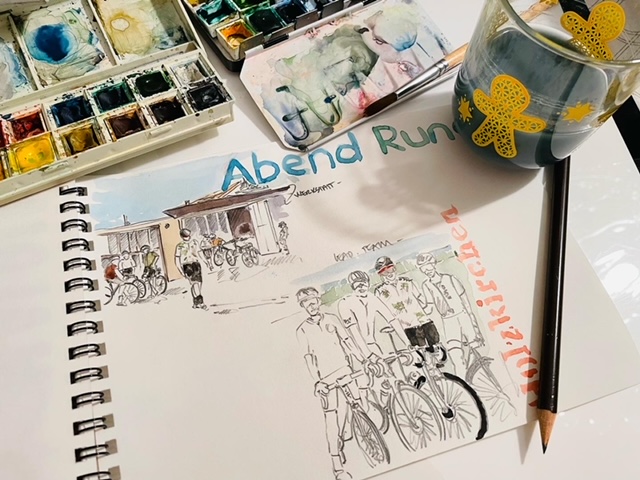 Airstream. Speed Moving forward under your own power. The feeling of freedom. Cycling could be described in this or a similar way. This is how we literally "experience" the world. This is our form of perception.
A particularly great aspect of the Pushbikers team is also: working with extraordinary people. With people who provide us with input, who inspire us and push us further. Sometimes also show us completely different forms of perception. For example, what if you don't design your world by cycling, but with pen, colour, shapes and brush strokes?
A piece of paper, a pen, a paint box, a little time. That's all it takes. The brush glides elegantly over the sheet, while Anne-Sophie's eyes detach themselves from the paint again and again in concentration. She looks closely as more and more people arrive on the bike in front of her, dismount and greet each other. Her hand translates what is happening before her eye. It is a sunny Thursday evening and Anne Sophie has chosen a chair opposite the Pushbikers shop. For her, drawing and sketching is a form of expression, like a language of its own. It is not for nothing that drawing is understood as the most immediate art form, very closely connected to the person. "I simply love it. I can't really be without pencils," she explains.
"I lose myself
in my own world"
Anne-Sophie Kramer
She only really got into cycling recently. In 2020, a very special gravel bike was created as a cooperation between Maloja and the Swiss bike manufacturer Open. "Soul in the Woods" is the message that is immortalised on the bike frame. The fine tree illustrations on the bike are by Anne-Sophie. "I have increased my strength bike-wise with Maloja and the Pushbikers," she laughs. She became the proud owner of one of the limited Open Gravel bikes and has also been a regular participant in our Pushbikers & Friends bike rides since 2021. So she couldn't help but capture the Pushbikers space with her paints and pens as well – little moments from the social rides, an exterior portrait of our original shop, a bike design or even a jersey idea for the Pushbikers – with mountain design, of course. Anne-Sophie accompanies us with her love for detail. With all the digitalisation and speed that characterises our everyday life, her drawings are like a haven of peace that you admire and enjoy. Thank you for your contribution, Anne-Sophie!
"Ich verliere mich in meiner eigenen Welt."